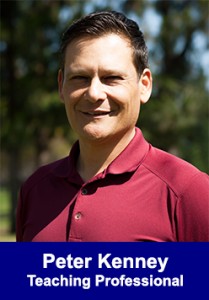 Peter is home grown, Alhambra! A graduate of Alhambra High School.
Peter is one of the nicest people you will ever meet. He has an extremely patient, methodical personality which is reflected in the great customer service and teaching he provides. Pete truly teaches the game of golf, not just how to swing the club. "I believe an instructor's job is to teach, but more importantly to inspire the student to play the game. The game of golf can be a little intimidating to the new student. I accept it as my duty to help my students past the initial intimidation through my coaching and knowledge of the golf swing."
Before beginning his golf teaching career, Pete worked as a professional club fitter. If you need help selecting a set of clubs or just have a question about what clubs will be easier for you to hit, he has the answer and the passion to help you. Contact Pete at 626.485.6702.