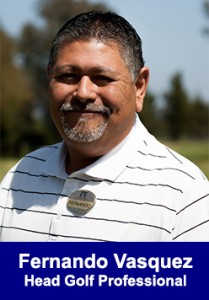 Fernando is the Head Professional and Assistant Manager at Alhambra Golf Course. His many years of experience in teaching, sales and club fitting with both GolfSmith and the Brookside Golf Course make him an excellent selection for teaching you the fundamentals necessary to learn to play golf.
"I approach teaching the fundamentals through the old, time-proven 'building block' method. I start my students with the grip, then stance and posture, teaching the student to develop these fundamentals in the short swings of the putting stroke and chipping. Then I naturally progress into the longer, more powerful strokes. As these building blocks are developed and the student's putting and chipping improves, we move ahead, making it easier for these already learned fundamentals to be applied in making a full swing and hitting for distance. The final step is moving the student from the driving range to the golf course. If you think about it, golf is the only game not learned on the field of play! So it is a greatly important step in the learning process to take the student onto the golf course to teach them how to integrate hitting the ball (driving range) with playing the game (golf course). I find this to be the only effective way to learn the game."
I enjoy working privately with a student one on one or in small groups of students. I am available for lessons by appointment at most times. For more information, please contact me at 626.354.2176.